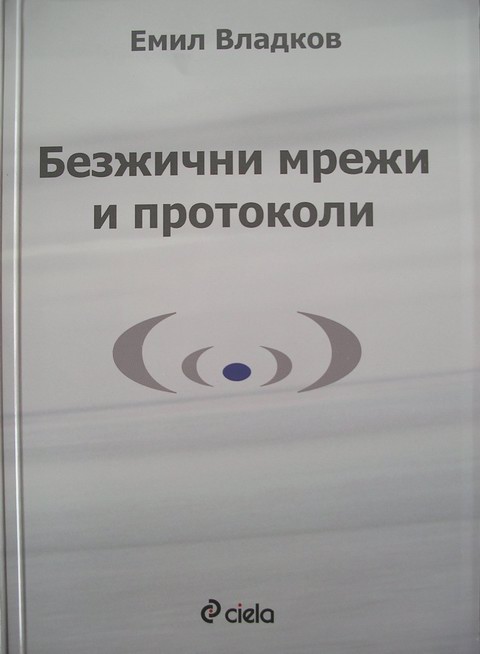 Wireless Networks and Protocols: The wireless communications and computer networks are the main topic of the new book of Assoc.Prof. Emil Vladkov, PhD. The whole complexity and beauty of the technological solutions for IEEE 802.11 networks and Bluetooth personal networks are presented to the reader in the context of the different kinds of wireless solutions for user mobility. The system architecture, planning, security and performance analysis are also touched. The book includes great amount of technical detail in 606 pages, so it can be used as a reference material, but also as an useful textbook for everyone interested in the area of wireless communications. The book can be purchased from the author. Please contact me by e-mail for inquiries about the book.at e_vladkov@yahoo.com.

Излезе от печат книгата "Безжични мрежи и протоколи" на доц. д-р Емил Владков, издание на Ciela, 606 страници.
Книгата си поставя задачата да представи цялата комплексност и красота на технологичните решения, стоящи в основата на двете широко-разпространени безжични мрежови технологии – безжичните компю мрежи по стандарт 802.11 във всичките им разновидности и безжичните персонални мрежи Bluetooth. Разбира се това е направено в контекста на многото други безжични мрежови технологии, осигуряващи мобилност на потребителите. Засегнати са въпроси, свързани с функционирането на всяка конкретна технология, както и проблемите на системната архитектура и планиране, сигурността на мрежите, анализа, измерването им и оптимизацията на техните параметри. В книгата са представени голямо количество технически детайли, което позволява ползването и не само като учебно пособие за всеки, решил да навлиза в облатта на безжичните комуникации, но и като справочна литература за работещите в тази сфера.
За повече информация, моля обръщайте се към доц. д-р Емил Владков на e-mail: e_vladkov@yahoo.com.